HOME
>
ABOUT
>
PRODUCT AWARDS
NITECORE NPS600 and TIKI/TIKI LE Awarded as Winners of iF Design Award 2021
November 29th 2021
The iF Design Award has recently released its winners of this year. NITECORE NPS600 and TIKI/TIKI LE were recognized as winners of iF Design Award 2021, the world-renowned design prize. They won over the 98-member jury, made up of independent experts from all over the world. The competition was intense: almost 10,000 entries were submitted from 52 countries in hopes of receiving the seal of quality.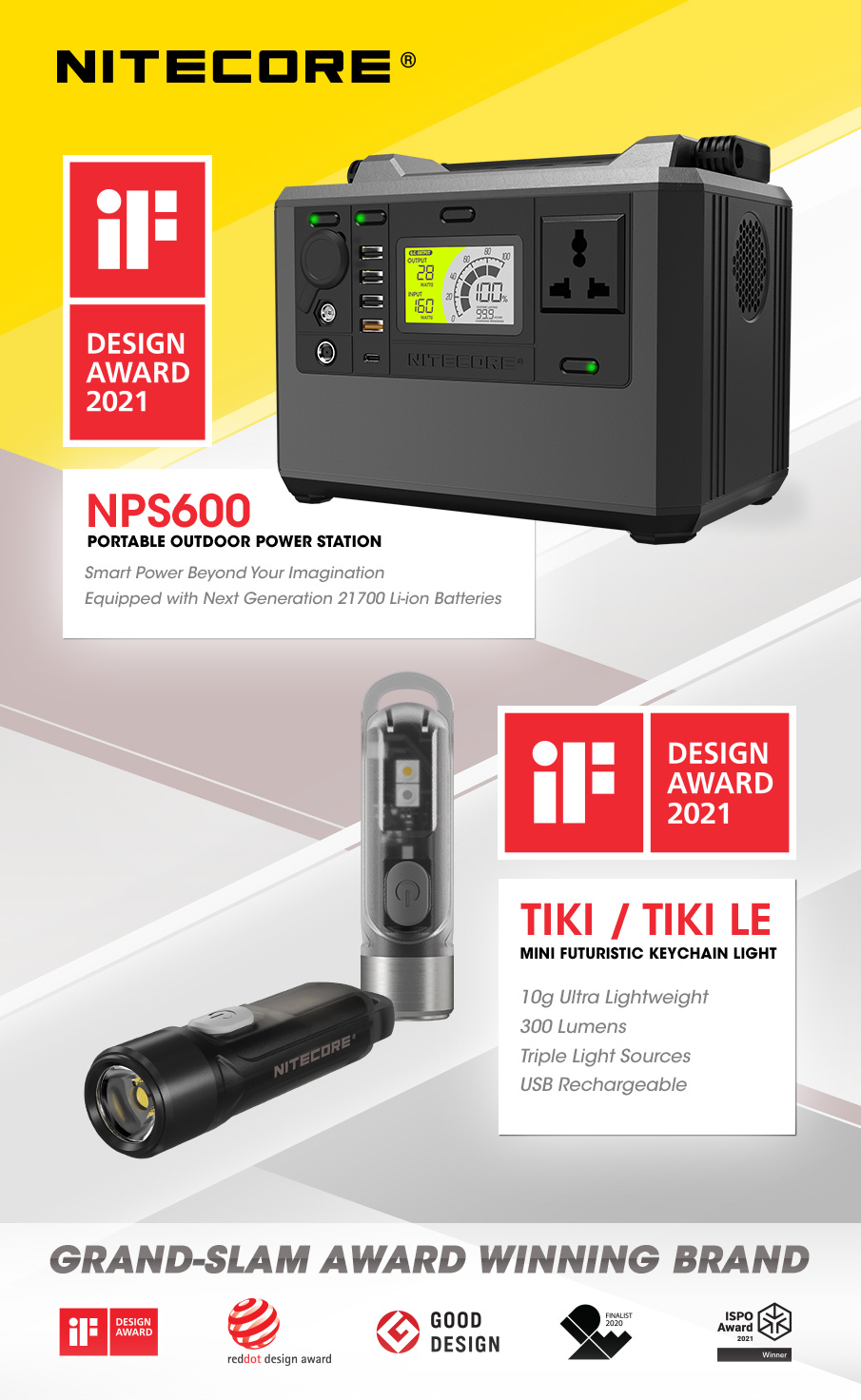 The NITECORE NPS600 is a Portable Outdoor Power Station with a max output power of 300W, a high capacity of 594Wh and various output ports equipped with next-generation 21700 Li-ion batteries. It is able to convert the internal battery power to a pure sine wave AC output which is universally friendly to various household appliances, as well as versatile DC outputs including USB-A, USB-C, and a car outlet. It is your ideal power companion for your road trip, outdoor working, lighting appliances, photography, filming, digital devices, emergency needs, and more.
The NITECORE TIKI & TIKI LE are two Mini Futuristic Keychain Lights with a primary max output of 300 lumens. With a transparent and frosted body constructed from durable PC (V0) materials which are commonly used in aerospace and electronics industries, it ensures a comfortable and steady grip while the head is constructed with a superior heat dissipation capability. The TIKI is equipped with auxiliary UV light and the high CRI white light while the TIKI LE has blue and red lights. As IP66 rated waterproof and dustproof and little finger sized, it has a built-in 130mAh Li-ion battery with USB charging circuit.
For 67 years, the iF Design Award has been recognized as an arbiter of quality for exceptional design. The iF label is renowned worldwide for outstanding design services, and the iF Design Award is one of the most important design prizes in the world.
This is also the 3rd year that NITECORE has won an iF Design Award. NITECORE LA10 CRI and R25 have been recognized by the iF Design Award Jury in 2017 while the Concept 1 in 2018. These innovative products designed by NITECORE have once again won their hearts and have shown the technical breakthroughs and outstanding product engineering to the international market. NITECORE will continue to "Keep Innovating" and offer more state-of-the-art products to our fans and customers all over the world.