Nitecore Explorer Series EC4S -ISPO Award 2015 Product Winner in LIGHTING & ENERGY Section!
January 29th 2015
The ISPO AWARD is the most important award given to extraordinary new products, and has since long been regarded by retailers as a probe for future procurements; journalists appreciate it as an overview of outstanding product innovations; and consumers appreciate a neutral recommendation without any prejudice from independent experts.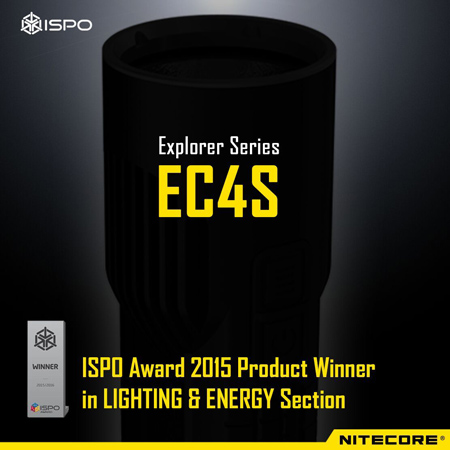 This year is no difference, the independent juries of experts will again nominate the most outstanding sporting goods of the year which gave them the most exhilarating product experience. And again, the Winner in LIGHTING & ENERGY Section of ISPO Award 2015: Nitecore Explorer Series EC4S!!
Nitecore as a leading all round flashlight expert has exhibited its star products and the latest products in the show. Attracting thousands of customers to stop by and try out our indisputably high performance flashlights. We spent a lot of time and sweat in creating these extremely small and lightweight outdoor flashlights for the outdoor adventure market. Featuring the latest technologies, our new Explorer series is bound to stir up a lot of publicity in ISPO.
Nitecore New Explorer Series EC4S see you guys at ISPO.